Loret Miller Ruppe Award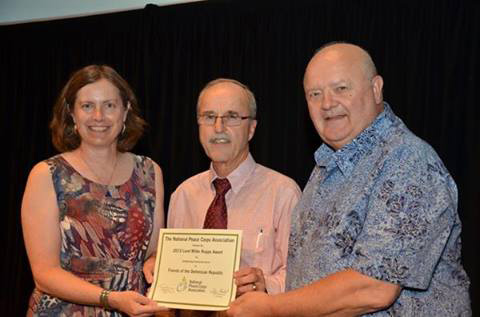 The Friends of the Dominican Republic is honored to receive the 2013 Loret Miller Ruppe Award for Outstanding Community Service. This award is presented by the National Peace Corps Association (NPCA) to an outstanding member group for a project or projects that promote the Third Goal of Peace Corps or continue to serve host counties, build group spirit and cooperation, and promote service. FDR has continued to serve the Dominican Republic through its financial support of basic needs project through the Community Challenge Fund and by supporting Peace Corps program sectors with program specific resources that benefit volunteers, their Dominican counterparts and their communities. 

The award was presented by Ann Baker on Saturday, June 29th, in Boston  as part of the NPCA's Peace Corps Connect Conference in Boston. Representing FDR is John Epler, coordinator of the FDR Community Challenge Fund and Neil Ross, FDR founder. 

Ruppe, the 10th and the longest serving Peace Corps Director, was a fierce champion for the agency and the Peace Corps community.